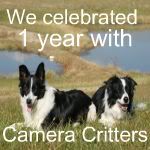 On behalf of Tammy and me,
as our anniversary gift to you...
Please accept this badge for celebrating the
ONE YEAR ANNIVERSARY of
Camera-Critters with us!!!
(Tammy made this badge - she freaking ROCKS!!!)

Welcome to the Camera-Critters meme. We hope that everyone enjoys this meme which is all about photos of animals/critters. So make your post, link back to here, visit other Camera-Critters captures, and have fun! Each week, on Sunday evening/night, a Camera-Critters capture from that week will be randomly selected to be featured in the sidebar of this blog until the next Sunday.
HUGE THANKS TO ALL OF THE CAMERA-CRITTERS PARTICIPANTS FOR MAKING CC SUCH A SUCCESSFUL MEME.
We try not to complicate CC with many rules, but we do ask that you please use a CC badge or link back to Camera-Critters in some way. Thank you.